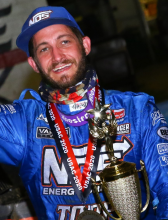 The starts finally aligned for JG and the team on Thursday night for the Smackdown VII Championship night, as he earned his spot in victory lane for the first time this season with the TOPP Motorsports team. After the championship night of Smackdown had been postponed twice previously, the team had questions of whether or not the momentum that carried JG to second place in Smackdown points would continue. Coming off of a great showing at Eldora Speedway the previous weekend (with an unfortunate mistake during a run for the lead causing JG to fall further into the pack), the team felt great about the Bow Foundation #4 and had confidence going into the Smackdown finale. The evening started off with a great King of the Hill run, where JG held off Chris Windom, Tyler Thomas and a final round versus Dave Darland to win the King of the Hill competition and earn the pole starting position for the Smackdown Championship Feature race. 
With hard work and preparation, the team went confidently into the Feature and JG led all 40 laps in a near cautionless race and marched his way into Victory Lane for the first time this season in the #4! JG won the Feature and the overall Smackdown Championship, bringing home the Championship belt for TOPP Motorsports for the 2nd year in a row! 
A HUGE thank you to all of our sponsors who help make JG and the team a success! TOPP Performance Race Parts, Nos Energy Drink, TOPP Industries, Conery Manufacturing, Titan Construction, IDI Composites, AIM Leasing, Omnisource, RobertsTechJobs.com, AMSOIL, Hoosier, Hinchman, Bell Helmets and so many more! A special thank you to Bow Foundation, our non-profit partner. We're proud to put the #4 in Victory Lane for ALL of you!